In today's digital age, businesses across all industries are grappling with a new set of challenges. The shift towards remote work, the need to manage vast amounts of data, and a requirement to adhere to the ever-shifting regulation and compliance standards – all while staring down the growing threat of cyber-attacks – can make any business owner's head spin.
In fact, the cost of cybercrime is projected to hit an annual $10.5 trillion by 2025, according to Cybersecurity Ventures. The economic impact of cybercrime is so significant that it's larger than the GDP of all but two countries: the U.S. and China. This is not a distant threat – 43% of cyber attacks are aimed at small businesses, but only 14% are prepared to defend themselves.
With this in mind, business owners have come to understand technology has become a mission critical aspect of their business' successful operation. However, many small to midsize businesses find themselves navigating this complex landscape without the necessary IT and Cybersecurity resources and expertise. This is where Swift Chip steps in to take the 'SH' out of IT.
Our Mindset
At Swift Chip, we believe that IT should be an asset, not a burden. Our mission is to provide friendly, dependable customer service that keeps your systems optimized and running and your people more productive. We partner with our clients to develop strategies that fit their goals and budget and proactively position them for growth and success. When problems do arise, we respond swiftly and effectively to minimize downtime. Our Certified Ethical Hackers work hard to help you rest easy knowing your valuable data is protected and your cybersecurity isn't an afterthought.
What We Do
We serve forward-thinking and security-conscious small and medium-sized business, operating with between 10 and 200 people, who have many of the same IT concerns as larger enterprises but lack the big corporate resources to maintain full-time in-house IT support. They understand the need for expert IT support, value the flexibility of an outsourced team, and often need to adhere to certain regulations or compliance standards. At Swift Chip, we're not just an outsourced service, we're a strategic partner committed to being your single source for comprehensive IT services, including maintenance, cybersecurity, compliance, policy support, and emergency response. We also recognize the potential of emerging technologies like AI and automation. Our team has the expertise to implement these solutions in your SMB, allowing you to stay ahead of the curve and improve operational efficiency while decreasing your frustration.
Reach out to us when you're ready to take the 'SH' out of your IT, or even better, before it hits the fan. Remember, 68% of business leaders feel their cybersecurity risks are increasing. Don't be part of that statistic. Don't wait until your business' data and reputation are in jeopardy. We're here to answer your biggest technology and cybersecurity riddles proactively and look forward to being of service.
To book a free initial consultation, contact us here or call us at 310-881-8770.
We take the SH out of IT
That is our mission. Our raison d'etre. At our core, Swift Chip is a customer service company that just so happens to be really good at technology.
Our technical team is led by Certified Ethical Hacker, Ken May, who instructs FBI, CIA, and Army Intelligence officers with the SANS Institute. For more than a decade, we have tackled our clients' IT and Cybersecurity challenges head-on. In doing so, we've provided peace of mind, boosted productivity, and safeguarded hundreds of businesses most sensitive data.
But we don't stop at solving problems – we're about fostering growth. We're the silent partners who take the 'SH' out of IT while allowing our clients to focus on what they do best.
Swift Chip's Core Values
Mission Statement:
To take the SH out of IT
Proactive All-Inclusive IT
No Hidden Costs or Fees. Truly Flat Rate & Predictable IT.
BACKUPS
Backups Performed Automatically
Data is Secure in Multiple Places
Backup Verification and Reporting
24×7 Monitoring for Backup Failure
CYBERSECURITY
Endpoint Encryption
Multifactor Authentication
Security Policies
Centralized User Management
STAFF EDUCATION
Security Awareness Training
Staff Testing and Education
Test Phishing & Training
PROJECTS
Project Planning,
Management and
Implementation
Technology Consulting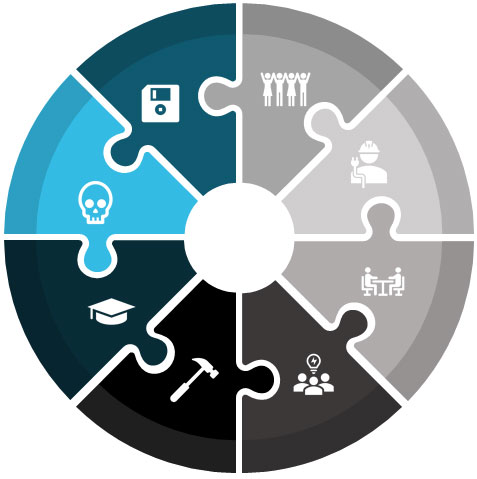 HELP DESK SUPPORT
Remote Assistance
Onsite Services As Needed
8 x 5 Help Desk
Monitoring
Patch and AV Updates
Routine Network Maintenance
SPAM Control
Email Archiving & Email Continuity
Critical Monitoring 24x7x365
VENDOR MGMT
Manage Technology Relationships
Single Point-Of-Contact for Vendor Issues
BUSINESS REVIEWS
Technology Business Reviews
Monthly Reporting
Strategy Discussions
The Promise
We Promise:
To deliver you best-in-class solutions that are efficient, innovative, and secure.
To guide you through our proven process to achieve results.
To respond in a timely manner because time is money.
Give you & your team the personal attention you deserve.
You Promise:
To put in the work or put someone in charge to ensure we get through the onboarding process.
To facilitate communication between our team and your team so they're aware of who we are, how to communicate with us, and what changes are happening.
Resist being the bottle neck to our joint success by helping us understand your processes.
To ask for help if and when you need it – ongoing dialogue is key to a successful partnership