Founded in 2009 by Kenneth May and Michael Paul, Swift Chip provides advanced technology services and solutions to small- and medium-sized businesses. Our company has grown from its origins. We started out in an apartment in Los Angeles, and can proudly say we are now a multi-location IT firm providing service to over 400 organizations in Southern California. Our commitment is to provide the best in IT and Cybersecurity services in an environment that is increasingly important in every sector.
With the increasing pace of technological change, the complexity of maintaining reliable IT infrastructure and ensuring the security of your data has grown as well. Swift Chip is your resource for reliable, responsive IT support that allows your business to grow and profit.
Our Mindset
At Swift Chip, we believe that IT should be an asset, not a burden. Our mission is to provide friendly, dependable customer service that keeps your systems optimized and running. We work with our clients to develop strategies that fit their goals and budget and proactively position them for growth and success. When problems arise, we respond quickly and effectively to minimize downtime. In short, Swift Chip lets you focus on your core business rather than worrying about management, repairs, and upgrades.
What We Do
Small- and medium-sized businesses have all the same kinds of IT concerns as larger enterprises, but without the resources corporations have to maintain full-time in-house IT support. As your single source for IT maintenance, cybersecurity, compliance, policy support, and emergency response, Swift Chip gives you access to the comprehensive IT expertise you need with budget-friendly pricing. We provide the innovative, custom-designed services and solutions for IT infrastructure and security SMBs need to improve operational efficiency, increase staff productivity, and reduce IT costs.
To find out more about how our IT experts can help your business thrive in a competitive market, call us at 310-326-2008 for a free initial consultation, or contact us here.
We take the SH out of IT
Swift Chip tackles and simplifies the most challenging IT concerns of businesses in today's fast-evolving, high-tech world. Our goal is to be partners and architects in the future growth and profitability of your business.
With countless years of combined professional IT experience, we're trusted by hundreds of organizations in Southern California. Our Cybersecurity team is headed by Certified Ethical Hacker, Ken may, who instructs FBI, CIA, and Army Intelligence officers with the SANS Institute. We bring that knowledge to our clients when crafting innovative and custom-designed solutions that deliver peace of mind and improved operational efficiency.
Swift Chip's Core Values
Mission Statement:
To take the SH out of IT
Proactive All-Inclusive IT
No Hidden Costs or Fees. Truly Flat Rate & Predictable IT.
BACKUPS
Backups Performed Automatically
Data is Secure in Multiple Places
Backup Verification and Reporting
24×7 Monitoring for Backup Failure
CYBERSECURITY
Endpoint Encryption
Multifactor Authentication
Security Policies
Centralized User Management
STAFF EDUCATION
Security Awareness Training
Staff Testing and Education
Test Phishing & Training
PROJECTS
Project Planning,
Management and
Implementation
Technology Consulting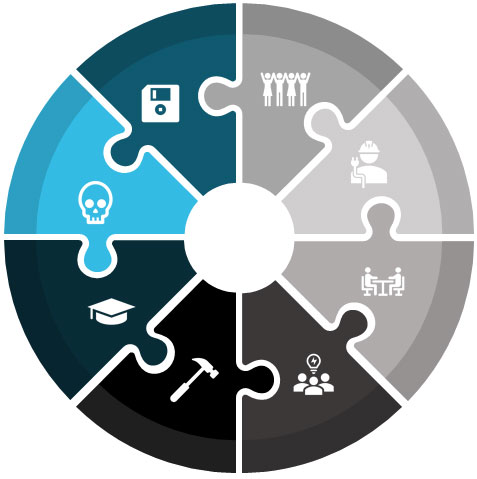 HELP DESK SUPPORT
Remote Assistance
Onsite Services As Needed
8 x 5 Help Desk
Monitoring
Patch and AV Updates
Routine Network Maintenance
SPAM Control
Email Archiving & Email Continuity
Critical Monitoring 24x7x365
VENDOR MGMT
Manage Technology Relationships
Single Point-Of-Contact for Vendor Issues
BUSINESS REVIEWS
Technology Business Reviews
Monthly Reporting
Strategy Discussions
The Promise
We Promise:
To deliver you best-in-class solutions that are efficient, innovative, and secure.
To guide you through our proven process to achieve results.
To respond in a timely manner because time is money.
Give you & your team the personal attention you deserve.
You Promise:
To put in the work or put someone in charge to ensure we get through the onboarding process.
To facilitate communication between our team and your team so they're aware of who we are, how to communicate with us, and what changes are happening.
Resist being the bottle neck to our joint success by helping us understand your processes.
To ask for help if and when you need it – ongoing dialogue is key to a successful partnership